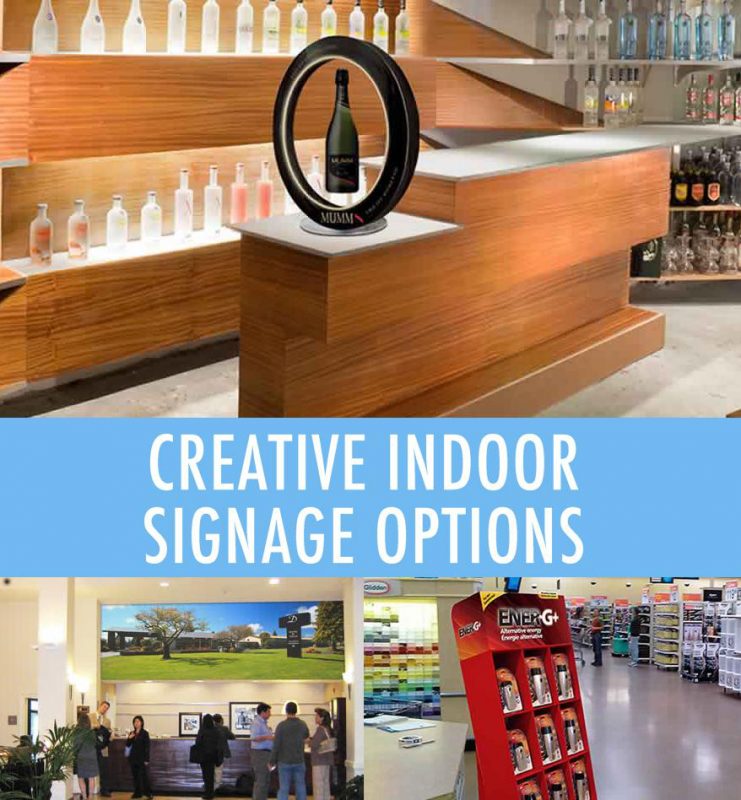 Everyone knows that outdoor signage can be an effective way to bring attention to and promote your business. But your promotion shouldn't end outside of your business's front door. Expanding your signage to the great indoors can prove an invaluable sales tool. There are plenty of ways in which indoor signage can help increase sales, boost your business, and bolster your bottom line.
In this post, we'll discuss 10 unique types of signs to use indoors. Reaching beyond just traditional signage options, we'll discuss unique styles of signage which can help make an impression and convey information about your product to customers in an engaging and effective way. These indoor signs are bound to make an impression on customers and help boost business.
10 Unique Types of Signs to Use Indoors.
Regardless of the type of business you run, chances are, you could get some good use out of these creative and innovative indoor signs. These are just a taste of the offerings; you can browse the full indoor signage collection on the Above All Advertising website.
iPad holder.
We are living in the information age; let your signage reflect that and speak to your tech-savvy customers. An iPad holder acts as a unique type of interactive  sign for your business. There are different options available, including a stand-alone sign or the visually attractive  Viper-V display, which allows you to showcase type or an announcement on the holder (image above left). Easy to set up and display, the iPad can be programmed to educate customers about aspects of your business or can even provide interactive services or information. Regardless of what type of content you choose to offer on the iPad, one thing is for certain: it is going to attract the attention of passers-by.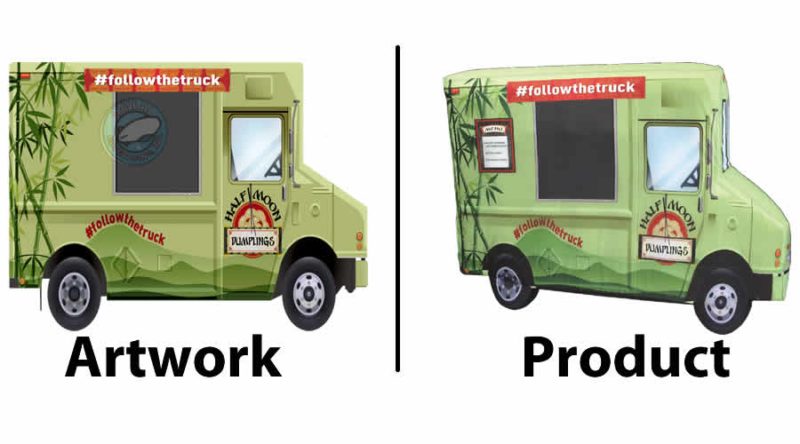 Sealed inflatables.
Did you know that sealed inflatables, be they large or small, are proven to stimulate impulse purchases? They add visibility and appeal like no other type of point of sale display, bringing customers' attention to the item you are promoting. It's like taking the eye-catching power of an outdoor advertising inflatable and shrinking it to a size appropriate for indoors.Whether it's an inflatable replica of a candy bar, a company mascot, or a new type of craft beer, these easy-to-display promotional items will command attention and bring eyes to the product or service you want to promote like nothing else.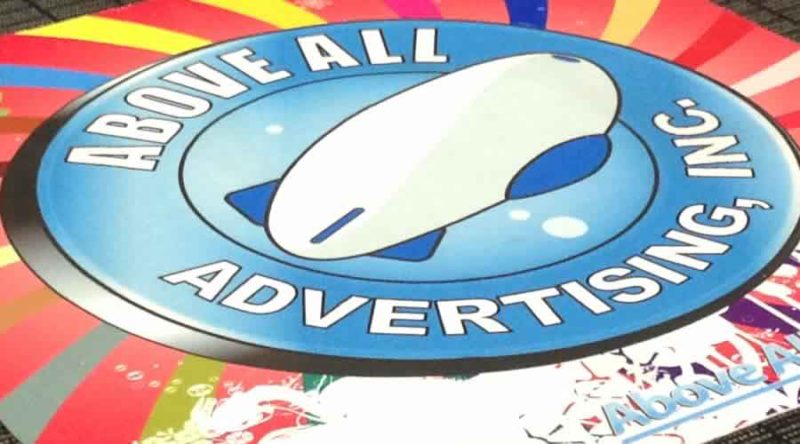 Carpet graphics.
Don't let customers walk on by! Make an impression by creating promotional artwork that stops them in their tracks. By putting a custom image, logo, or slogan on a printable carpet, you'll catch the eye of customers.This creative style of signage is not only engaging, but functional. You can create a carpet in any number of different colors and custom shapes, so you can really create something unique. Or perhaps you'll create a wall-to-wall option for your business. The sky's the limit!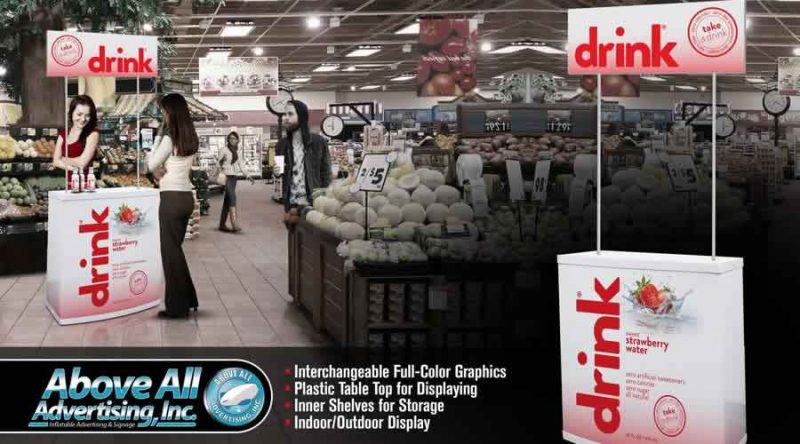 Event podium.
Think podiums are only for airport customer service and political candidates? Think again. An event podium with a strong display graphic sends a message of authority and professionalism, and draws customers right to you. Easy to create using a large format print which is adhered to the podium, the final result is super professional and very functional. Use the podium to highlight a particular product, to have employees handing out samples or brochures, or to have someone answering questions. 
Rolling snap frame.
The rolling snap frame is a fantastic solution at an affordable price. You can easily change the display and roll the base out to various locations in your business for maximum impact. So whether you want to highlight a particular product or service or even a new type of payment plan, you'll bring attention to it with high quality graphics in this slim, easy to display format.But wait, there's more: this display is dual-sided, so you can display multiple graphics in one display format!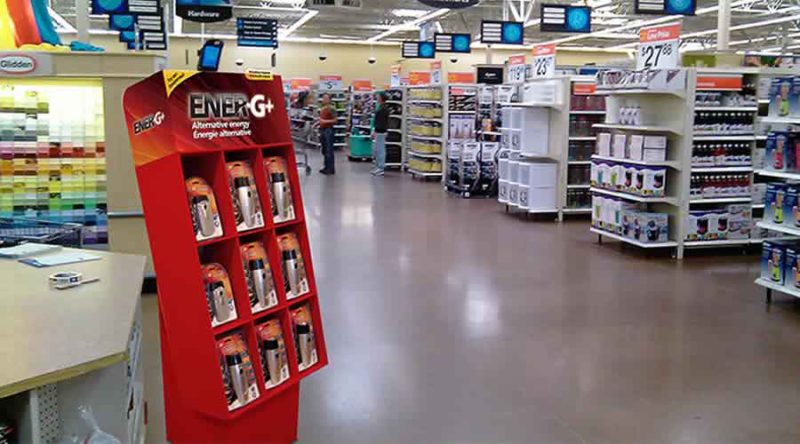 Recyclable display.
Looking for a temporary display that doesn't have a huge footprint? A recyclable display may be just the ticket. They can be customized to fit any number of different products and to fit in different parts of the store, whether you're looking for an end cap display or a free-standing display unit to post near registers.These corrugated cardboard displays not only help showcase products but emphasize your commitment to the environment, which customers respect and gravitate toward.
Wall murals.
A wall mural makes a huge impact in your company space. Created using state of the art UV inks, these murals can be printed on a variety of different surfaces and in a huge array of sizes. Whether it's on a wall in a retail store, in a public space such as a mall or business park, or displayed on pillars in front of your business, wall murals are eye catching and convey a professional air for your business.Promote specific products, services, or just your business in general in a big, splashy, attention-grabbing way.
Display walls.
Display walls can be like a movable wall mural for your business. They can be used at trade shows, but can also be utilized as signage for your business during the off-season for trade shows.Easy to set up and impressive to behold, display walls are hugely popular for promoting businesses because of their visibility, versatility, and ability to be moved. Whether it's a curved display wall or a collapsible display wall, display walls should be considered a great option for indoor signage.
Table throws.
This type of sign is simple, but infinitely effective. A table throw is a high quality tablecloth printed with professional graphics. It is functional and makes any table a selling surface. Designed to fit snugly over tables with no pins or clips needed, a table throw is a professional way to showcase your business while also making your display more beautiful and less temporary-looking.
Floating magnetic signs.
Take customers to "how'd they do that?" to potential buyer with this engaging, attention-grabbing futuristic looking magnetic floating displays. A patent-pending magnetic technology allows objects to float in a magnetic field, so they appear to be defying gravity and floating through the air. A wide variety of objects can be displayed within the magnetic field, including but not limited to beer, wine, cell phones, collectibles, toys, and perfumes--just about anything weighing up to 12 ounces. You can take it to the next level by spotlighting the item with LED lights or by employing a rotating option on the sign.This awesome, high-tech signage will delight and engage customers of all ages!
Conclusion: Think outside of the advertising box with one of these unique signs to use indoors. Don't let outdoors be where all of your flash is--keep customers fascinated once they enter your place of business, or use these indoor signs for your next indoor trade show or event.
What types of indoor signage do you use?